Promotions
Best Sellers
Natural. Traditional. Smart.
Community Partner
What's Up?

21/Mar/2015

Find our both at these upcoming Wedding fairs! more

10/Jun/2014

Our products at Lazada online more

26/Oct/2013

We'll be here in November more

22/Oct/2013

The American Women's Club of the Philippines bazaar is fast approaching more

19/Sep/2013

We're bringing our pots to Dasmarinas Village in October. Click here for the full details. more

17/Sep/2013

Click here to see our price list of essential oils more

17/Sep/2013

For brides and grooms thinking about a special gift for wedding sponsors, here's something about our products being the perfect souvenir more

17/Sep/2013

We'll be at Asia's biggest wedding fair this weekend. Click to know where to find us. more

23/Jul/2013

We're taking part in the July edition of the American Women's Club of the Philippines Bazaar more

20/Jul/2013

Get your Red Clay Factory products this July at NBC Tent more

09/Mar/2013

We are at the Wedding Expo at SMX Convention Center. Learn more about our participation in this post. more

08/Dec/2012

The Christmas rush is upon us! We're making sure you won't miss us when you head off to Christmas bazaars around the metro. We'll be here on these dates. more

13/Nov/2012

We'll make Christmas shopping easy for you. Catch us on these dates for our latest collections of aromatherapy oil burners more

16/Oct/2012

If you didn't catch us at the Casa Y Jarin Bazaar at the Hotel Intercontinental last week, here's your chance. more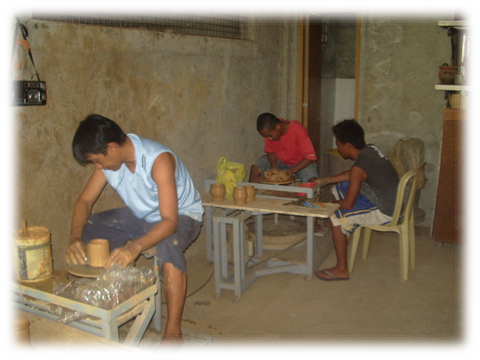 Our work just got lighter with eight new pairs of hands joining our team.
The Department of Trade and Industry (DTI) has just finished its first of a series of intensive training in pottery-making in Barangay Bolo in Tiwi, Albay. The three-month workshop, which started end of May, was attended by eight people, aged between 25 and 45, from the villages of Tiwi, Putsan and Bolo.
Now, the newly trained potters are getting their hands at making All In Red Clay items, which we intend to make available in bazaars this holiday season. So better watch out for their masterpiece!